We are regularly professing the benefits of repurposing content to our clients and network. Creating great content takes a lot of effort, meaning you will want to make the most out of it. Repurposing your existing content allows you to extend its life, address a new audience, and- most importantly- save yourself a lot of valuable time.
In this article we will discuss simple and effective ways you can repurpose your content to benefit your business, including:
Rewriting blog content
Changing the format of the content
Creating social posts
Rewriting your blog content
When writing a blog it is important to first consider who your audience is and what stage of the buyer journey they are at. This information will have a big impact on the content you create and the way you write it. Using this data you can identify the audiences that you haven't reached and re-purpose your content accordingly in order to target new audience groups.
Through your buyer personas and other audience information you will be able to identify which stage of the buyer journey your target audience is on. This information will help you identify the purpose your blog should have. There are three main content types, each of which have their own distinct purpose:
Educate- to teach your audience about what someone like you does
Inspire- to give your audience hope or a push to take action
Inform- to tell your audience about your offers and services.
Once you are aware of which of these areas you are hoping to target through your content you can alter your original blog to achieve these goals for your desired target audience.
We have created a table to help you identify the audience you have already targeted with your content and which audiences still need to be reached.

Still unsure how to repurpose your blogs? Use our step by step guide on how to repurpose your content.
Repurpose your content into other formats
If you have written a blog about a topic you think is important why not use that same information to create a video, podcast, or infographic? Different audiences interact with content in different ways. By creating a range of formats you are encouraging a wider audience to interact with your content.
Repurposing blog content into a video for instance will provide you with a more flexible piece of content that can be shared on a range of channels, as well as being able to add it to your website to drive more traffic to important pages. This will also provide you with more opportunities to use your content in the future. A video, for example, can be a highly effective advertising tool if you wish to create an advertising campaign.
A video or a blog can be ideal for presenting detailed or complex information to your audience, however sometimes you may only wish to present a small amount of information. Infographics are an effective way to condense information for easier consumption by your audience. They are also an ideal form of content for visual platforms such as social media, or even to integrate into relevant blogs- either existing or future content.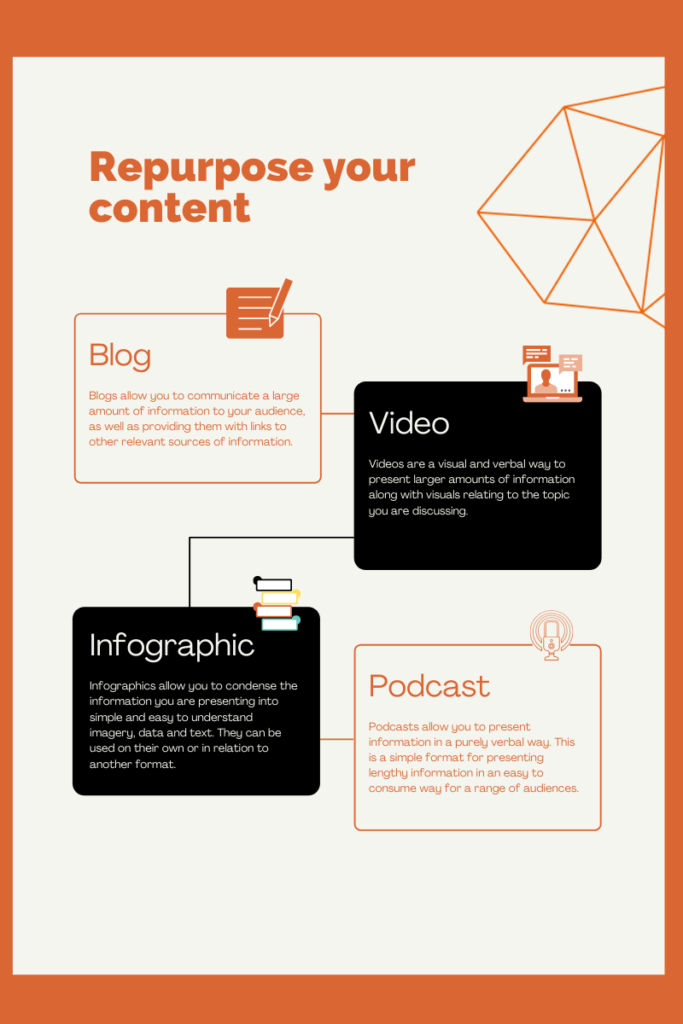 Consider the audience you are trying to target through your content. Use your knowledge about this specific buyer persona to inform the format your content will be taking.
Using existing content to create social posts
Once you have created your content the next step is to get people to see it. There are many ways you can do this however social media is one of the most popular and efficient. When using existing content to create social posts you can effectively "kill two birds with one stone" by repurposing your content for a different channel and adding a link to direct people to the related information on your website.
Social media is a wonderful channel for sharing repurposed content in a range of formats. Whether you have rewritten a blog, created a video, or made a podcast, social media platforms are the ideal location to share this content.
Repurposing blog content in this way can be very effective and can require little effort. By using the information you have gathered during your research, and the blog you have written, you can create a range of social media posts. There are lots of simple and effective ways you can repurpose blog content on social media:
Rewrite sections of your blog for social media posts
Copy content directly from your blog into a social media post
Pose a question you discuss in your blog, add a link for further information
Create a poll relating to your blog content
Share a link to your blog in the comments on relevant posts
Creating content takes a lot of time and effort. When putting so much energy into your marketing efforts it is important that you create as many benefits for your business as possible. We hope this article has provided you with methods to extend the life of your content, address new audience, and reduce the time you are spending on creating marketing content from scratch. Are you still unsure on the best ways to repurpose your content? Follow us on social media for first hand examples on the best ways to repurpose your content.
Still unsure how repurposing content can benefit you? Book a free call with a member of our expert team to see how we can help you make the most out of your content and benefit all your other marketing activities.