A buyer persona is a guideline representation of a business's ideal customer. Using market research and data about existing customers a persona can be created to help a business better understand their customers, and their wants and needs. This information is a valuable marketing tool for all businesses, regardless of their products or services.
How do you create a buyer persona?
The first step in creating a buyer persona for any business is understanding your customer. Gathering both qualitative and quantitative research into your customer base will enable you to create in-depth market and competitor research. This research can then be used to create the basis for your buyer persona.
Collecting accurate data will ensure your buyer persona represents your accurate customer base and not your ideal or potential one. This is highly important for creating an accurate buyer persona.
There are 7 key areas of research to conduct when creating your buyer persona. Your research is in no way limited to these areas however they are the key considerations your buyer persona should address. These key research areas are:
Demographics
Environment
How do they consume content?
Challenges
Goals
Key marketing messages
How does my business help them?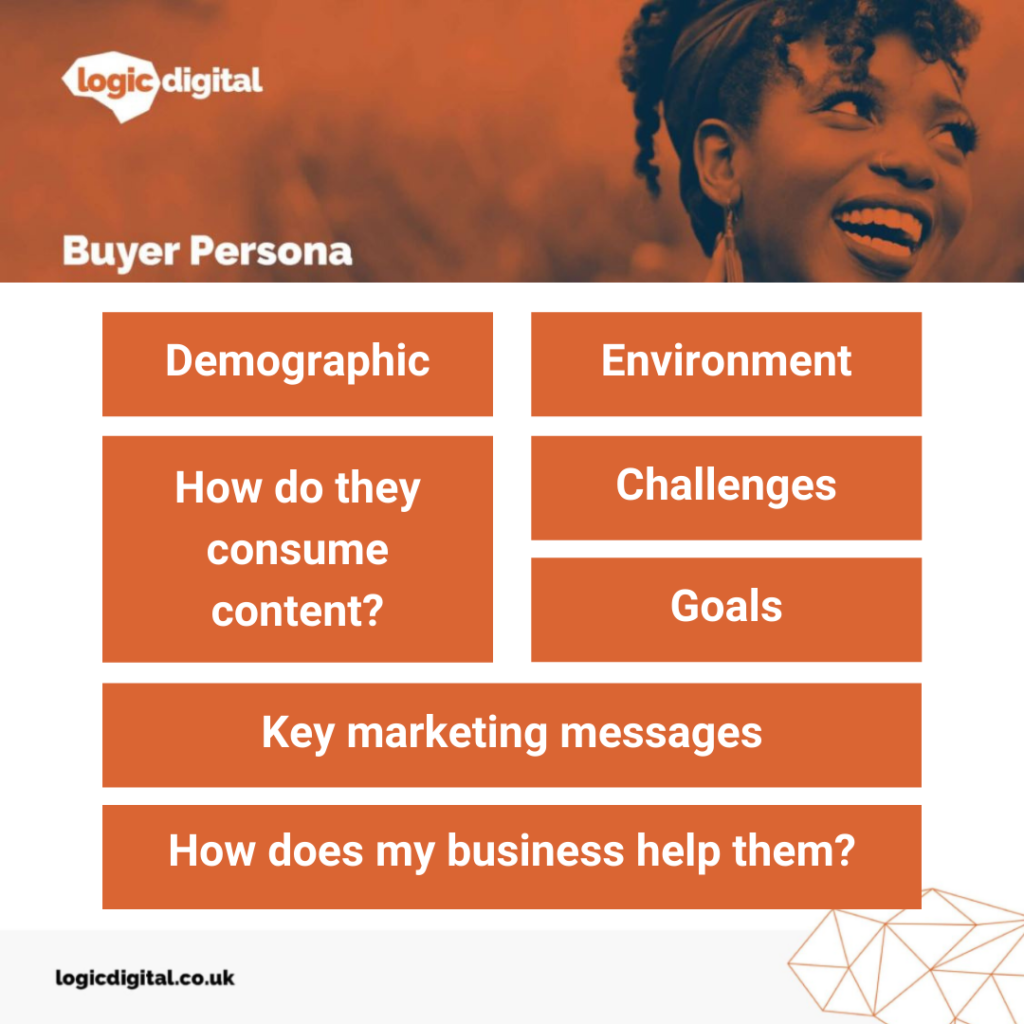 Find out more about each of these areas and how they can support you in creating the perfect buyer persona in our how to create a buyer persona article.
Why is a buyer persona important for your business?
Creating an in-depth buyer persona can take a lot of time and energy and it is important to ensure that you utilise that information as best you can. But why is spending all this time on your buyer persona so important?
What aspects of your business use the buyer persona?
Your buyer persona can be used in numerous aspects of your business, including marketing, sales and product, and service development. It will facilitate informed decision making and allow for smarter investments into your business's future. The buyer persona will help you to make important business decisions including where to invest your business's future and what type of marketing content you should create.
How can you use your buyer persona to support your business?
A buyer persona supports all activities involved in nurturing existing customers and acquiring new ones by enabling you to tailor the customer experience to their specific wants and needs.
It can be easy for a business owner or employee to believe that they understand their business and customers without needing a buyer persona, however, businesses don't always cater to their target audience exclusively. Like all things, customers change along with their goals, challenges, and demographics. Utilising an up to date buyer persona allows you to utilise both your existing knowledge and in-depth research to provide the best possible customer-centred business you can.
When creating and developing products and services a buyer persona can act as a roadmap to what will best support and attract your customers.
When marketing your business and your offering a buyer persona will help you create marketing strategies and campaigns that target the right people. Utilising accurate keyword research, persona insights, knowledge of challenges and goals faced by your customers you can market directly to your customers in the way that works best for them and you.
Sales departments can utilise the customer challenge and goals sections of your buyer persona to inform their sales pitches and how to address their customers with optimal effectiveness.
Customer service and support teams can use the buyer persona to influence the service they provide by enabling them to better understand their customers and the challenges they face.
Buyer personas can be used at every level of your business to support development growth. Your buyer persona is the first important step you can take in creating a better business, services, and marketing strategies. The information your buyer persona provides you with will save you time by providing a data driven approach to all aspects of your business. Support your business through a strategic and target driven process to business and marketing.
Taking the time to create a buyer persona could be the difference between a successful and unsuccessful marketing campaign. Get in touch for support creating your personas or download our free buyer persona template.