Thinking of using Google Ads to promote your business? Here are our top tips for creating an effective campaign.
Evaluate Google Ads for your business
Before you even start creating a Google Ads campaign, you need to evaluate and analyse three things:
Is Google Ads right for your audience?
What are your competitors doing?
Do you have a realistic budget?
If you are unsure of any of these, you risk wasting a lot of time and effort on an activity that isn't going to benefit your business.
First, you need to ensure that you can reach your target audience using the Google platform. While Google Ads have a wide reach, if your audience is mainly on e.g. Facebook you're probably going to have more success running Facebook ads.
Refer to your buyer persona(s) to discover which platform will be best for your ad campaign before you plan any specific activity
Read more: Where should I run ads to promote my business?
Next, you should analyse what your competitors are doing on Google Ads to a) confirm that Google is a valuable platform for your industry, b) understand what works for them so you can apply it to your campaign planning, and c) determine what budget you're likely to need to compete with them and achieve results.
You can review industry benchmark data, use market research tools like SEM Rush, or use the Google Ads Keyword Planner to gather your competitor insights.
While budget is far from the only factor in a successful Google Ads campaign, it's important to remember that the platform uses auction-time bidding to determine which ad will be shown. If your budget is significantly lower than that of competitors who are targeting the same audience, you will struggle to get your ads seen. Use your competitor insights to calculate what budget you will likely need to get your desired results.
Make an informed choice about your objective
When you set up a Google Ads campaign, the first thing you have to do is select an objective. You should think through this decision carefully as your chosen objective will determine what ad types and bidding methods you can use later in your set-up.
You can choose from:
Sales
Leads
Website traffic
Product and brand consideration
Brand awareness and reach
App promotion
Local store visits and promotion
Consider what your business and marketing objectives are and how you would like Google Ads to help you achieve them. You should also consider what your audience is most likely to do when they see an ad so you can pick an objective that helps you get the best value for money.
Generally, you can consider a higher commitment from your audience to cost more. I.e. a purchase will cost more than a click which, in turn, will cost more than a view.
You should also consider which part of the buyer journey you are targeting your audience at: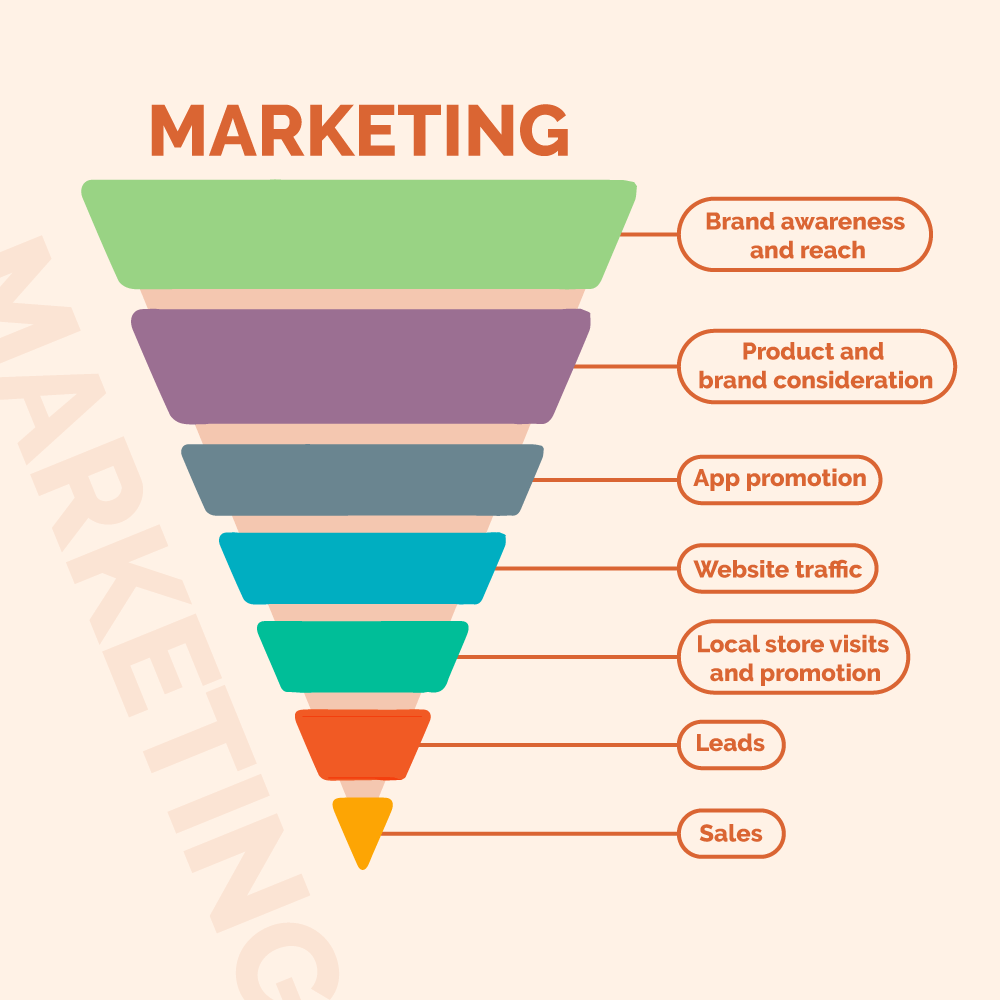 Pick the right campaign type for your audience
There are several campaign types to choose from on Google depending on where you want your ad to show and what type of ad you want to display to your audience. These include:
Search Campaigns
Display Campaigns
Shopping Campaigns
Video Campaigns
Discovery Campaigns
You should pick a campaign type that aligns with your audience preferences (e.g. do they prefer video content over text content) as well as their position in the digital buyer journey.
For example, a video or display campaign may be well suited to users who are earlier in their buyer journey whereas search or shopping campaigns often work best for users who have demonstrated an active interest by searching for a topic or product.
Want to use more than one campaign type? Try out Google's newest campaign type Performance Max. This allows you to run every type of ad from one campaign.
Targeting (is more than keywords)
When you say 'targeting' and 'Google Ads' in the same sentence, most people instinctively think of keywords. While keywords can play a vital role in running effective ads on Google, there are many more targeting options you can use to ensure you reach the perfect audience for your business objectives.
Read more: How to choose keywords for Google Ads
You can target by demographic information, life events, in-market audience behaviours, location, interactions with your website, and similarities to your existing customers (and the list is only growing!)
Make sure your buyer personas are up to date so that you can easily put this information into your Google Ads targeting.
You can also ad bid adjustments for audiences that you consider more valuable than others – for example, you can bid higher for certain locations, interests, or times of the day.
Aim for a high ad rank
Ad rank is one of the most important factors that determine when your ad will show –, if you have a high ad rank, your ads may show even if your budget is lower than competitors.
Ad rank is calculated by Google based on several factors (including the competitors in the same auction and your bid amount) however there are two that you have complete control over ad relevance and landing page experience. I.e. you should be aiming to have highly relevant ads that lead to a high-quality and relevant landing page.
Sounds obvious, right?
Yet so many advertisers lose out on ad impressions because of a low ad rank.
How to improve ad relevancy
Firstly, group your similar keywords into individual ad groups. This means that you can easily make sure your ads match the keywords you've chosen.
In text-based ads, this means utilising the keywords you've targeted in your ad copy, while in video and image-based ads it means incorporating the message and customer intent into your storytelling.
Read more: 3 ways to make more effective and relevant video ads
Example

Ad Group 1 keywords: quirky mugs, fun mugs, rainbow mugs
Ad group 1 ad message: "Quirky mugs to brighten up any cup of tea"

Ad group 2 keywords: mug gifts, mugs for mum, mugs for dad
Ad group 2 ad message: "Treat them to a mug they'll love"

While both of these ads are about mugs, they wouldn't be relevant for the keywords in the alternate ad group.
How to improve landing page experience
Similarly to your ad, your landing page has to be relevant to your targeting to achieve a high ad rank and engage users who reach you. This includes using the same language as your ads and targeting, as well as using relevant visuals and branding.
The design of your landing page can have a significant impact on the user experience too. Do they find it easy to use? Can they quickly achieve what you promised in your ad?
Too often, advertisers create their landing pages as an afterthought (or use a pre-existing page from their website that hasn't been designed for the ad audience) which can lead to poor ad rank and user experience. Web design can have a massive impact on the success of your marketing campaigns so you should make it a priority.
Provide a clear call to action
No matter what objective you've chosen for your ad campaign, you want your audience to do something. By putting a clear and simple call to action in your ad, you can help your audience give you the results you're after.
Another thing to bear in mind is the fact that there will be lots of other ads showing up for your audience (often for similar products and services) so you should avoid generic CTAs like "Buy Now" as these will just blend into the background of other ads. Instead, try to be as specific as possible – you can use a benefit of your business like "Call Now For Expert Support" or add a sense of urgency by using time factors like "Order Now For Delivery By The 14th".
Don't forget extensions
By the time you have set up the ads in your campaign, you're likely eager to get it all live ASAP. But don't forget about extensions!
Ad extensions are additions to your existing ads that can display additional information, links and images to make your ads more attractive to users. Ad extensions also play a role in determining your ad rank.
Review and optimise
The work doesn't stop once your Google Ads campaign is live. You need to regularly review your campaign so that you can optimise it for the ad assets, targeting, and budget that is working best for you.
Give yourself time
Having said that you need to regularly review and make changes to your campaigns, be careful not to make changes too often – the Google Ads platform needs time to evaluate and test your changes before you can determine how well they're working. We recommend making major changes with at least 2 weeks to measure performance before changing again.
Google Ads can be an incredibly effective marketing tool when planned and optimised correctly. If you're unsure about how to use Google Ads for your business, we recommend that you consult an expert before starting.
Our team love to help businesses grow using Google Ads. Get in touch for advice and support with your campaigns.