Google Ads is a wonderful tool for brands trying to reach their target audience online. Jess McClory from Logic Digital discusses their benefits along with other industry specialists.
Not only can you target based on demographic information and interests, you can also target based on the particular keywords they're searching for online. However, ad extensions make your Google Ads campaigns more effective and can drastically transform their performance.
Ad extensions are a critical factor when it comes to determing your ad rank – by using ad extensions you can improve your quality score and achieve higher rankings for your ads. Google has also shown that ad extensions are able to incease CTR by 10-15%.
But it's not as simple as using ad extensions just for the sake of it – you need to know which ones to use and when to use them for maximum effect.
We asked a few Google Ads experts to weigh in and give us their opinion on which Google Ads extension is the most valuable to their clients and why.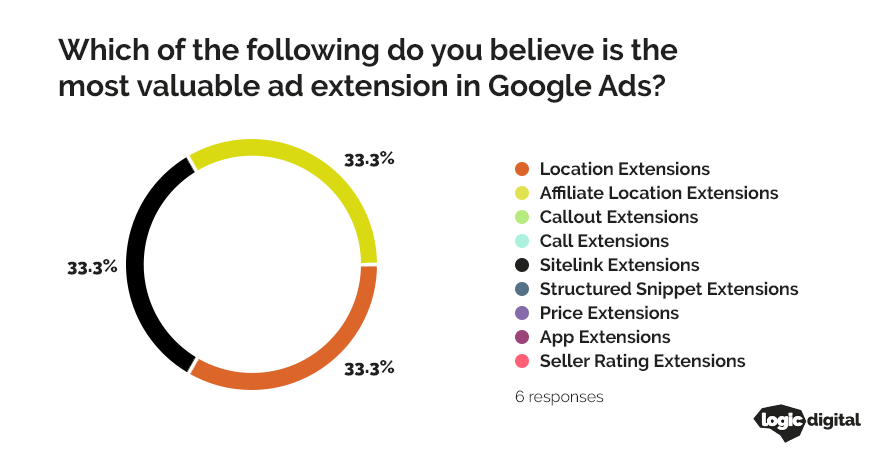 Despite the vast number of ad extensions available in Google Ads, there were 3 clear favourites: Location Extensions; Sitelink Extensions and Seller Rating Extensions.
Location Extensions
While it often depends on what kind of ad you're running, for businesses who want customers in a particular location, location extensions are "excellent" says one respondent.
Andy Morley from Evolution Media supports this idea saying that the vast majority of their clients "are targeting local customers for both Google Ads and SEO" so location extensions in Google Ads are invaluable. He also ads that "service based industries seem to see the most benefit due to their limited service areas."
Location extensions show the location of your brick-and-mortar store (or the nearest one if you have multiple locations) to the user to help them identify you as a local business close to them. With "near me" searches rising exponentially each year, highlighting your location to potential customers is a must.
Seller Rating Extensions
"Strangely, my opinion here has altered slightly – mainly due to Covid. Ask me 6 months ago and I'd have told you I've seen exceptional results for Location Extensions, and they've helped dramatically increase footfall for a lot of businesses I work with. However in this new, entirely online, world – Seller ratings are more important than ever." Contributes Matt Cocking from Purpose Media.
"There's data to show an increase of around 28% in online shoppers since Covid landed which for online businesses is huge. How many businesses do you notice, while browsing the web, that still offer information regarding their capabilities of delivery due to covid? Don't get me wrong, some of this is due to limited staffing and resource, but some is purely due to stock. Seller ratings undoubted encourage users to shop online on your ecommerce store. If you're not investing resource into increasing your seller ratings, especially with the huge shift to online shopping, you're potentially letting your competitions win."
"This has a much larger impact for ecommerce site OR sites who have taken to the web and launched stores more recently, post covid. Audiences in every sector are 1. Buying online more/doing things virtually where possible and 2. paying close attention to people's virtual opinion of you."
Lauren Devlin from EQVVS adds "First impressions are extremely important. This is why seller ratings are essential for any business PPC campaign, no matter the audience."
"New customers rely on social proof when making their first purchase with a company as unfortunately there are many rogue traders, and reviews build that much-needed trust in order to convert."
Sitelink Extensions
"While the question of the most valuable ad extension completely depends on the industry, the product or service and the purpose of the ad in question, the sitelink extension works well in most circumstances because they are so versatile." Says Abra Millar, adding "Due to the versatility, it is suitable for most industries and audiences – which is a huge element of their appeal. However, sitelinks can be particularly helpful for branded searches, where it's not clear exactly what a searcher wants."
Sophie Logan from Adzooma agrees with this point highlighting how "Taking people to the right page helps them to take the conversion path you are wanting them to go down. It also helps to reduce bounce rate and page exits, as people are getting the information/page they are looking for."
Conclusion
As Jess McClory outlines at the top of this article, ad extensions are important but it's vital that you use them in the right way if you really want to see the benefit on your Google Ads campaign. It's clear that there are different use cases depending on your individual business and objectives. If you need to emphasise your accessibility to your customers then location extensions are the way to go, if you need to make a good impression then obviously seller ratings would be best. Before deciding exactly how to use ad extensions you should be clear on who your target audience is and exactly what journey you want them to take.
For help creating ads for your business, check out this article or get in touch with our team.