Website design and development is crucial for any business looking to create an effective online presence. Although many businesses outsource their website development it is still highly beneficial to understand the stages your website will go through during the design and development process.
Are you looking to create a strong website to increase your business's online presence? Here are the stages you will need to go through to design and develop your site.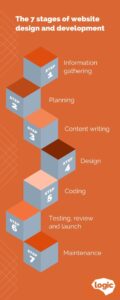 1. Information gathering
Information gathering is a highly important stage in website design and development. Information gathering is centred around analysing clients' needs & requirements. In this stage it is important to answer these key questions:
What is the purpose of creating the website?
What is the goal of the website?
Who is your target audience?
What type of content does your target audience look for?
These factors are very crucial to determine in the fundamental phase of website design.
2. Planning
Once you have gathered the information you need it is time to start planning. Planning is simply prioritising your tasks for completing the website. In this stage timings and resource assignment are considered. Navigation architecture can also be considered at this stage as part of the sitemap.
3. Content writing
Although content writing is often carried out after the design stage, our Creative Manager recommends writing your content first as it then allows you to create the ideal design to present all the information you need. This is not always the case, nor is it always possible, however often when the design stage is completed first compromises have to be made in the content creation stage to accommodate for the design.
Completing this stage before the design also helps the creative process to focus on content that needs to be showcased and aids in creating a good user journey and flow of the website.
You should not have to compromise your vision for your website when developing it from the ground up. Creating the content before moving on to the design stage allows you to do this.
The content writing stage can't be underestimated. It is beneficial to confirm the tone you'd like to communicate to the audience of your website and any calls-to-action's you want to use at this stage. Content writing also involves:
Creating catchy headlines
Text editing
Writing new text
Compiling the existing text, etc
At this stage the client provides website content ready to migrate to the site. The developer or designer works with the client to clarify any queries from the content writers regarding what is achievable for showing content.
4. Design
This is the creative phase of website design. This is the phase where designers put their heart and soul into it. Also, communication plays a major role here. The designer needs to understand each and every aspect of the client's expectation and try to sketch it. Client and developer collaboration is really important at this stage, from discussing the design aspects of the clients' site, to reviewing competitors' websites. Although developers and designers have the most expertise in website design, clients are the experts in their brands meaning they best understand how they want their site to feel and what it should reflect. Use this stage to discuss how and why brand guidelines could be integrated into the website design.
The designer also needs to make sure any required functionality is covered in how to display static or dynamic content.
5. Coding/ Site building
Once the design phase has been completed you can move on to the website build.
Whether you are going for a simple off the shelf template and theme or a bespoke custom code build the environment and hosting will be the first step.
Here at Logic Digital we concentrate on WordPress as a Content Management System (CMS) which offers a huge selection of plugins and themes.
Development would normally be carried out away from the live environment and later transferred. However, there are instances where the site can be built at the final hosting destination. For example, if you do not yet have an existing website or you want to introduce some anticipation of a whole new site you can publish a holding page also known as a coming soon page. This option allows you to build the site behind this page and once the final site is complete you can simply turn off the holding page. This removes the added steps of migrating a dev site to live and possible DNS changes.
An important part of development which is sometimes overlooked at this stage is optimisation. If you take the time to apply SEO best practice now you will save time and remove the need to go back to complete this work. A good developer will have insight into technical SEO and what is expected eg, correctly sized and compressed images, cacheing, properly formatted redirects etc. Items such as meta descriptions and page titles should have been covered in the content writing stage.
6. Testing, review and launch
Testing is an important stage in website development. There are several types of website testing you can do for your site, including:
Content testing
Functional testing
Design testing
Once you have tested your website you can then upload your files to the server, unless you are already working on the end location of the site. When this is done you should run the tests again to ensure the files are uploaded correctly and that your website is working as it should.
7. Maintenance
Maintenance is the final stage. Although not included in the actual design and development process, maintenance is a service we always encourage our clients to utilise after the build and launch. It is solely there to keep the site running smoothly and keep the platform and any plugins and themes up to date. Not having maintenance done on your site can lead to possible vulnerabilities and security issues from out of date scripts, plugins, themes, platforms etc. If you are using a digital marketing agency to help maintain your website they will most likely perform site audits to ensure you are getting the most out of your site.
Designing and developing a website can be a highly complex process. If you're unsure you should enlist the help of professional digital marketers with access to the tools and expertise to create the best website for your business.
Want help designing a website that will resonate with your audience, generate traffic and convert visitors? Get in touch with us to find out more about our web design services.