Let's be clear, LinkedIn is NOT a sales tool. However, if you're good at sales, LinkedIn can be an incredibly effective channel to reach a wide audience and to find opportunities to start conversations with prospects.
LinkedIn is particularly effective for B2B sales since it gives brands a chance to highlight the people behind the business – along with what inspires and motivates them. Remember, people ultimately buy from people.
If you're considering using LinkedIn as part of your sales strategy, here are a few tips that we've picked up over the years.
1. Use your headline to tell your target audience what you can actually do for them.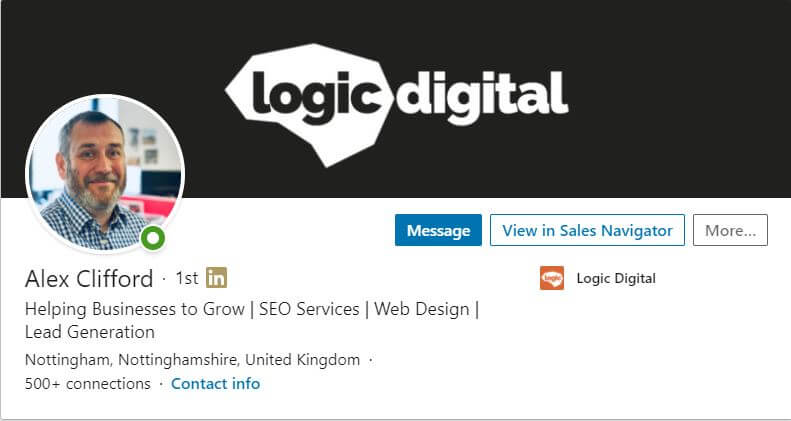 A common pitfall on LinkedIn is that most people use their profiles to talk about themselves and their achievements rather than highlighting the benefit of working with them. LinkedIn is just as crowded as any other social media platform so you need to help your audience out by telling them exactly why you're a useful connection.
2. Use Boolean searches to get more from the free version
There are definitely benefits to using one of the paid LinkedIn accounts including increased sending limits, additional insights and more advanced targeting options. However, if you're just starting out on LinkedIn you might want to get as much out of the free version as you can before you invest any money into it. Boolean searches on LinkedIn are a great way to get around the limited filtering options on the free account when searching for potential connections. You can use quoted searches to look for users with an exact phrase in their profile, exclude certain results using the NOT feature and more. It's important that you focus on connecting with people who are actually relevant to your business (as most LinkedIn profiles have connection lists where only 10% is the target audience!)
3. Give Recommendations
Recommendations are an incredibly powerful factor when people are evaluating your profile – recommendations highlight what people loved about you and reinforce your offering at the same times as providing a reference to the types of people you've worked with before. If you have great recommendations from other product managers, the product manager looking at your profile will feel confident in your ability to work with someone in their role. So how do you get recommendations? We've found that actually being the first one to give them really helps. Once you've taken the time out to praise someone else's work, they'll be much more willing to do the same for you!
4. Be consistent with your content
Once your target audience has connected with you, they actually need to see some content from you. Quite often you'll end up doing this as and when you have the time and energy but the best results come when you have a consistent presence in your audience's feed. If you know that you're probably going to be short on time, you might want to look at scheduling your posts in advance using a tool like Hootsuite, Postfity or Buffer.
5. Tell people why your content is useful
If you were in a meeting with a prospect, you wouldn't just throw a case study or article at them and expect them to understand why they should read it – you'd explain why it's important and why it's relevant. The same is true on LinkedIn. Whenever you're sharing a link or a resource, ensure you write about why your audience should read it and what they can expect to take away from it.
We regularly run training sessions for businesses who are new to LinkedIn, teaching team members how to use LinkedIn as a powerful marketing tool including how to choose the right people to connect with, how to engage in conversation with potential prospects and how to optimise your profile to stand out and drive business. Get in touch with our team to see how we could help you develop your skills.