As a small business owner, you may have heard the phrase "Search Engine Optimization" (or SEO) before and thought that it sounds far too technical or complex for you to utilise.
Put simply, SEO is any activity aiming to get your website to appear higher up in Google Search results. With over 3.5 billion searches a day, this is a massively valuable market for small businesses and gives you the space to compete with big organisations since RANKINGS CANNOT BE BOUGHT.
SEO is not easy or quick and larger organisations may have an advantage since they have more resources to help with their SEO activity however, there are a lot of SEO practices you can use as a small business owner or employee to improve your website rankings in Google and help your overall digital presence.
Getting started with SEO as a small business
Here are some things to bear in mind when getting started with your website to help with SEO and increase customer engagement. Get more basic SEO tips in our handy guide.
Be mobile-friendly
Google looks at the mobile version of your site first (mobile-first indexing, if you're feeling technical) so you must design your website with mobile in mind. Not only is this important for Google, but people are also increasingly using their mobile devices to access the internet so you need to make sure your website looks and functions perfectly for them.
A common mistake website newbies make is that they treat the mobile design as an afterthought (if they remember to check it at all!). If anything, mobile design should be the first thing you consider when designing a website – regardless of whether you're designing it yourself or using a professional web design company.
Use a logical site structure
What does 'logical site structure' mean? It means your really important pages should all be accessible from links in your website navigation menu in a sensible order.
Both Google and your audience want to be able to navigate through your website easily in a way that makes sense. E.g. the homepage should link to your products/services page which in turn should link to your individual services.
Here's our basic recommended site structure: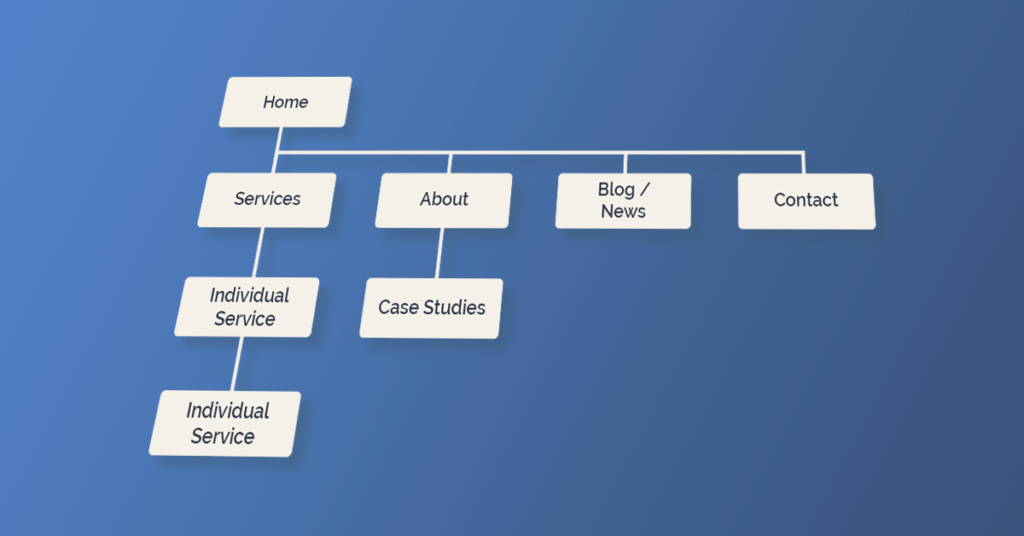 Use the same language as your audience
How does Google know if you're relevant to a user? By looking at the words you use across your website.
So make sure you're explicitly using the language your audience would be using to find you – e.g. if you repair shoes in Derby, tell them that you repair shoes in Derby!
Not sure exactly what words and phrases your audience is looking for? Use a tool like Ubersuggest to find relevant words or see what a competitor is ranking for.
Many people take this too far and try to stuff relevant words in for the sake of it – don't do this. Google recognises it as spammy and unprofessional and won't put you any higher up the list AND it's a pain for your audience to read a page full of text like this:
We offer a great shoe repair service in Derby where were repair all types of shoes for Derby residents – truly the place to go if you need your shoes repairing in Derby!
If you need a hand with getting the basics of SEO right, we offer an SEO Foundations package designed to do it all for you in a few weeks. Get in touch with our team to find out if it could be right for your business.
Ongoing SEO tips for small businesses
Build links from local businesses
Small business owners are usually pretty good at building relationships with other small or local businesses – we have to if we're going to stay sane(ish!).
Utilise these relationships to get them to link to your website either from their website and blog or from their social media posts. This helps Google to trust your website and rank you higher than a website it trusts less. Links from other businesses can also help their customers become aware of you and, like Google, trust your brand for future services or products.
Be informative
Most people search Google for answers and information – so give yourself the best chance to be found by providing the information they're after. Write a blog, record a video or create help pages to answer questions people have that are relevant to your industry.
Keep a note of any questions your customers are asking you or use a tool like Answer The Public to find out what questions people are searching for.
This content will automatically include relevant language to your audience, give other businesses something to link to AND provide you with extra content to share with your social media followers.
SEO can do wonders for small businesses and it doesn't have to be a massive headache to get started. Follow these simple tips or read our Ultimate Beginner's Guide to SEO for a more detailed look at SEO.
Not sure how to promote your small business online? Get in touch with our team to book a call – we'll review your business and let you know exactly what you need!