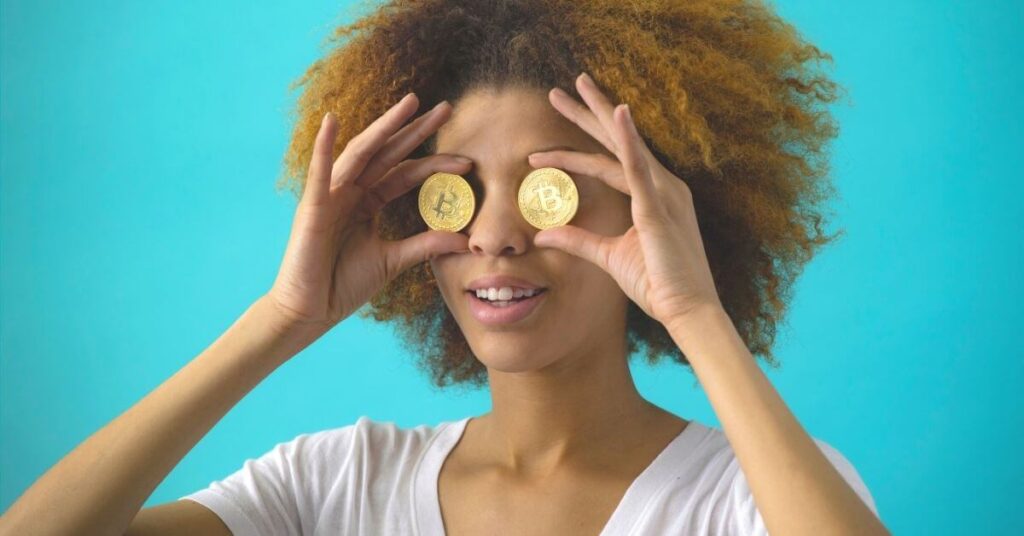 We get it, when you launch a new business it's very unlikely you'll have a huge amount of money to spend on digital marketing straight away. But in a classic chicken-and-egg situation, if you have no marketing – how are you supposed to get customers and make money to spend on promoting your business?
While friends, family and word of mouth will get you so far, to be successful you need to make sure your business can be found online when people go looking and that you're doing something to stay front of mind with those who already know of you.
Luckily, there are few things you can do to market your business that are free and don't require a vast marketing knowledge to get started. A bonus is that everything we recommend here can be done in less than an hour each – meaning that you have time to actually run your business too!
1. Post on social media
Social media is great. A whole bunch of free platforms that let you share content from a personal or business profile. Most people use at least one social media platform regularly so it's a great way for you to spread the word about your business.
While all the platforms work slightly differently, the basic principle is the same: if you post regular helpful and informative content, the platform will make sure people see it (eventually). Even if you don't have a marketing team or graphic designer, you can quickly create eye-catching posts yourself using free tools like Canva or Visme.
The trick to making social media work for your business and not take over your whole life is to have your buyer personas planned out. Once you know what social media platforms your target audience uses, what goals and challenges they have, and what types of posts they respond to, you'll be able to focus on the platforms that matter and know exactly what messages to share in your posts.
Need to create a buyer persona? Use our free buyer persona template. 
LinkedIn
We want to talk about LinkedIn in a little more detail. LinkedIn is one of the most popular social media platforms for B2B business owners – a combination of a giant networking event and a social media platform dedicated to business posts.
With everything you can do on LinkedIn, many business owners find it overwhelming and confusing leading to hours spent on the platform with nothing to show for it.
Enter the "LinkedIn Cup Of Tea".
As we mentioned earlier, you have a business to run so you won't always have hours to spend on social media marketing your business. The idea behind the LinkedIn Cup Of Tea is that you only spend the time it takes to drink a cup of tea on LinkedIn every day.
Before we jump into what goes into the LinkedIn Cup Of Tea, you need to know how posts on LinkedIn work and about something called your Social Selling Index.
A simple explanation of how posting on LinkedIn works is: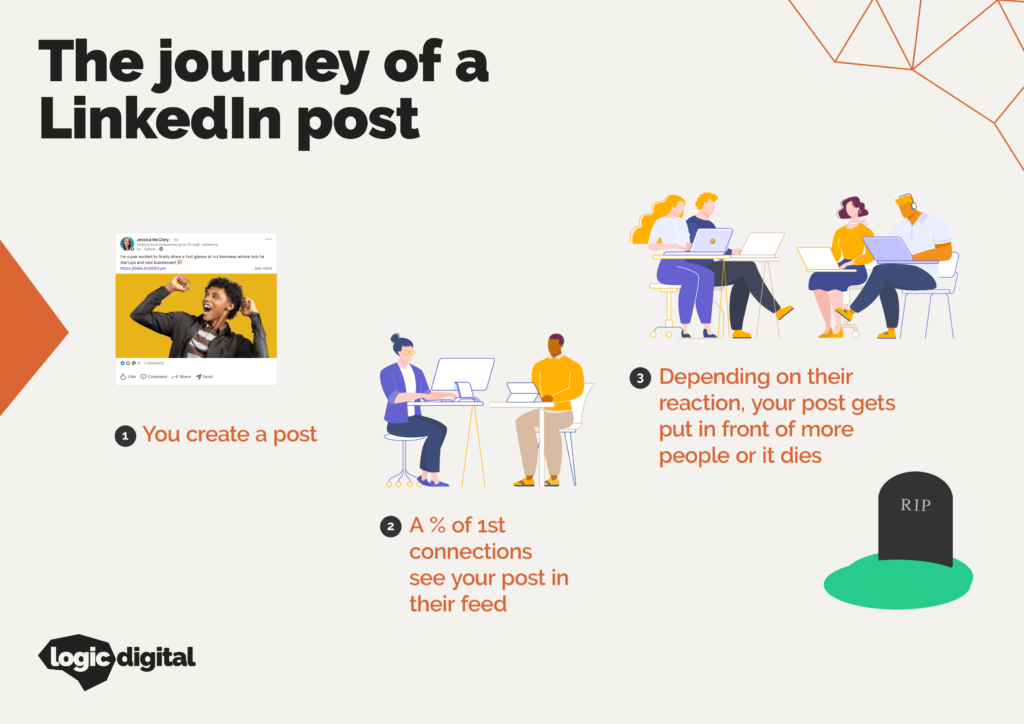 You create a post > a percentage of your LinkedIn connections see it > they like, comment and share > LinkedIn shows the post to more of your connections and other relevant people e.g. 2nd & 3rd connections based on interactions from your 1st connections.
You create a post > a percentage of your LinkedIn connections see it > there's not a lot of engagement > LinkedIn doesn't show it to anyone else.
The interesting thing about this journey is that the success of your post hinges on how that first pool of connections reacts to it – and if that pool is small, the chances of getting a good amount of engagement is slim.
So how does LinkedIn decide how many people to show your post to in that first stage? This is where your social selling index (SSI) comes in. Your SSI is a score assigned to your profile by LinkedIn based on how well you use the platform. The higher your SSI, the bigger that first pool of people will be and the higher your chances are of making that post successful.
Ultimately, if you want to be successful on LinkedIn you need to increase your SSI – that's what the LinkedIn Cup Of Tea does.
What is the LinkedIn Cup Of Tea?
Connect

Connect with 5-10 people per day

Connect with decision-makers relevant to your business (e.g CEOs, Owners and Department Heads)

Use LinkedIn filters and Boolean searches to show you've put some thought into your connection requests (use the info in your buyer persona!)

Understand

Engage with posts (react, comment, share)
Send messages emphasising the positives of your services or sharing helpful content
Join groups
Explore and engage with content under relevant hashtags – not just what's in your feed

Post

Post regularly (every day if you can – use tools like Canva to quickly create visual content)

Use different types of content (text, images, videos, documents)

Tag other people and businesses in your posts when relevant

Post content that highlights your expertise in a subject and/or showcases your personality
By following the LinkedIn Cup Of Tea steps every day you can increase your SSI and reach more people with your business – all for free while having a hot drink.
2. Set up Google My Business
Have you ever searched for something on Google and as part of the results you've been given a map with businesses nearby? This is what Google gives to users who have 'local intent' in their search.
Google believes you have local intent when you search for a service "near me", a service in a specific location, or something that would benefit from being local to you rather than at the other side of the country such as a locksmith or vet.
This map result is officially called the Local Pack and you get in there by having a Google My Business listing.
Some listings are automatically generated based on the information that Google has from, well, being Google. And some listings will need to be created from scratch – especially if you're a brand new business. If a listing already exists for your business, you will simply need to claim it with your email address.
By setting up a Google My Business listing you can make sure that your local audience can find you and contact you. Again, this is a free service and can be quickly set up by simply entering your business name, address and contact details. This is also a place where the public can see reviews of your business – a great way to promote your services!
Want to take your Google My Business listing to the next level? Read this article on how to fully optimise your Google My Business listing and get the most from the local pack.
3. Cover some SEO basics
While setting up a website itself is not free or necessarily quick, there are some simple things you can do to make sure you're getting the most out of it. One of the most important things you can do is covering some SEO basics.
SEO (Search Engine Optimisation) is the process of getting your website to show up as high in Google search results as possible. Most of the activities involved in this process should be done by a professional, but if you don't have the budget for that yet there are some basics you can cover yourself to help your website actually get found by searchers online.
You need to match the words used in key places on your website to the words your target audience uses when searching on Google.
These key places are:
URLs
Page Titles
Page Headers
Page Copy
By using the same words and phrases in these parts of your website, Google will understand that you're a relevant result for your target audience.
Find out what words and phrases people are using to find businesses like yours using tools like UberSuggest and Google Trends.
Want to know how to use SEO in today's world?
4. Write blogs based on FAQs
Alongside covering some SEO basics, writing blogs based on questions that your target audience frequently asks is a great way to get your business found in search results and share your expertise on social media.
If you don't have a website to share blogs from, you can use platforms like Medium to host your content.
Find out what questions people ask about your industry or service by referring back to the challenges of your buyer persona or using a tool like AnswerThePublic.
As you can see, there's a wide range of free digital marketing activities you can do to get your business off the ground. But these will admittedly only get you so far.
If you need to take your digital marketing to the next level, get in touch with our team for a friendly no-strings-attached chat.