Every business has a story — whether it's a funny one, an erratic one or a smooth-sailing one.
When using your brand's story to your advantage, it's not really about what your story is, but instead, how it's told. You may think that your business doesn't really have a story worth telling; however, if you spin it a certain way, it can be a brilliant marketing tool to help you become more connected with your audience. Your story demonstrates the kind of company you are before your customer has even had a chance to experience it.
Telling your brand's story helps to:
Create authenticity
Your story is driven by the inspiring people who have participated in its journey, those who keep it going and those who have been crucial to its success. The road to a successful business is usually not a smooth one, but telling the story of the things you had to overcome, shows you to be an authentic business with 'human' qualities. Your brand story shouldn't have to try and 'convince' anyone that you're an authentic company, you should be honest and the authenticity should surface naturally.
Show you work hard and care
One of the key things that every business wants their customers to know is how hard they work for them and how much they care about providing high-quality services and products.
Demonstrate your originality
It's very unlikely that if a company has a similar story to yours, it will be told in the same way. Your brand's story should be unique to your business and the way it's told should emulate your company's personality and services/product.
Show that everything you've done is for the customer
Your story should articulate how your business has helped the customer and how you've solved an issue they couldn't solve without you, but also how you couldn't have achieved what you have done without your customer supporting you. Taking this angle with your brand's story determines that your sole aim is to make them happy customers and that you appreciate their support.
Define your brand's personality
Your brand's personality should be characterised by the ups and downs you went through to create your business. The personality in which you tell your story should be consistent throughout your branding, to ensure it remains strong and your audience knows who you are as a business. The way you write your story has a huge impact on the kind of personality you exhibit; however, this doesn't mean that 'wacky' words have to be used to demonstrate that you're a fun business – you should still be authentic and approachable.
Any key tricks for telling your brand's story?
So you now know why it's a brilliant idea to tell your brand's story, but what are the top tips for making sure you tell an intriguing, dynamic story to make customers gravitate towards you?
The future of your brand
It's important for you to demonstrate your own faith in your business so that customers can feel the same way too. Writing about the future of your brand in your story strengthens the idea you are an aspirational business, who is always trying to improve your customer's experience and internal processes.
Who is your brand's hero?
Every brand's story has to have a hero. You'll find lots of articles stating that the business should be the hero saving the customer; however, I would disagree with this. Without your customer, your business would be nothing; therefore, your customer is your hero. Take the angle in your brand's story that you have worked collaboratively with them to make your business a success.
Inspire
Inspire people to want to be a part of your company and to be a part of making it successful. Writing an inspiring brand story will not only encourage your audience to look up to you as an industry leader but will also promote shares of your story on social media.
Make people care
Customers having emotional empathy with your brand and your services/product can only ever benefit your company. In your brand's story, tell your customer why they should care, and who and what they are caring for. This doesn't mean making customers feel sympathy for you but instead, allow them to empathise with your journey.
Imagery
I wouldn't say this was a must; however, a photo of your employees or first prototypes helps to support your brand's personality and illustrate the story. Adding some informative diagrams such as a timeline can be a more interesting way to get your words across too.
Case Study: Innocent Smoothies
Don't forget, it's not really about how interesting your brand's story is, but instead, it's about how interestingly you tell your brand's story. Innocent is lucky enough to have a complex story; however, I'm not focusing on that. I'm looking at the way they've decided to tell it.
On the site, they have dedicated a page to their story and have decided to go with a simple timeline design, supported by images and illustrations.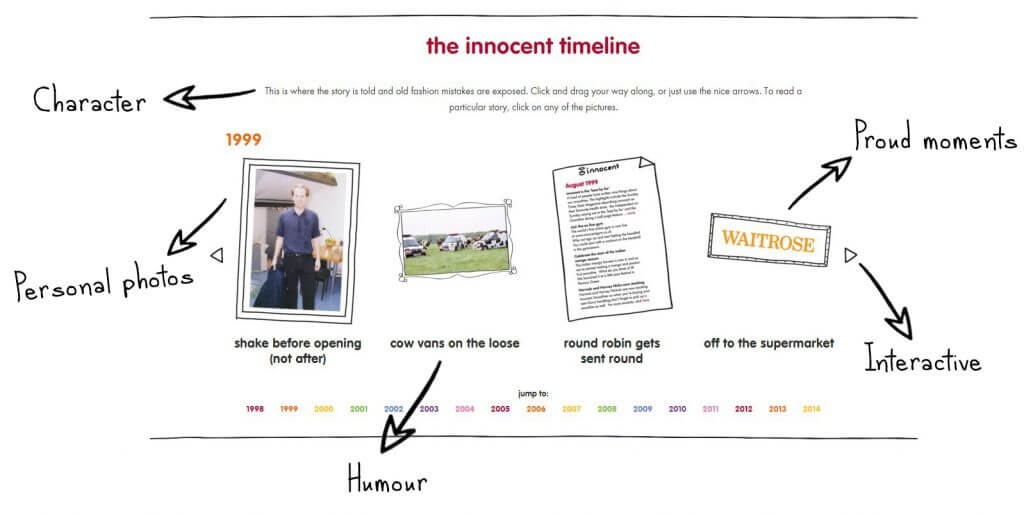 How to market your brand's story
So you've written your brand's story…but now what? You've written an entertaining, honest and inspiring journey of your business, but you're not entirely sure where to start in letting people know about it.
1. Put it on your business' website
This may sound like a pretty obvious step; however, I wanted to make sure you all definitely have done this! As people are navigating your website to try and determine the kind of company you are, having a page dedicated to your business' story can help an audience have a clear idea of this. Your brand's story should also be consistent with the rest of the tone throughout your website.
2. Tailor the story to the platform
Once your story has been placed on your website, you want to start thinking about sharing it throughout your social media. This doesn't necessarily have to be in the form of a post, but instead could become part of your bio or 'about us' section on your social media.
3. Get creative!
There can be many valuable ways to mention your brand's story, so get brainstorming to see what could work for your company! Here are a few ideas to get you started:
Dedicate a newsletter to your story
On your product's packaging
In a press pack
Video
As a storyboard
A flipbook
Case Study: McDonald's Big Mac Advert
To celebrate 40 years since the Big Mac was launched, this year, McDonald's released a video which follows the story of the famous burger throughout its decades.
I love this advert as it's funny, relatable and shows the story of not only the Big Mac, but McDonald's itself. It reiterates the idea that the Big Mac burger is for everyone – it's inclusive – just like the brand's goal.
If you've decided to create a flipbook or storyboard to tell your brand's story, how about filming it and posting it on your website and social media? You could also use your flipbook and storyboard within your print marketing too, including your press pack or as a welcome pack for a new customer.
The story of your brand can be invaluable to your business and gives your brand a history and worth that cannot be denied. Hopefully, this article has helped you kick off some thoughts on starting to write and market your brands and perhaps even helped you to discover what your story is.