With Alexa, Siri and Cortana, the impact of voice search is increasing at a considerable rate.
The realisation of the ease and accessibility of voice search is growing. With over 1 Billion Voice Searches per month worldwide and 40% of adults using Voice Search. Studies have also shown that calls are currently the most likely outcome of a voice search with 28% of people who do a voice search go on to call the company.

There are various voice-assisted technologies now available: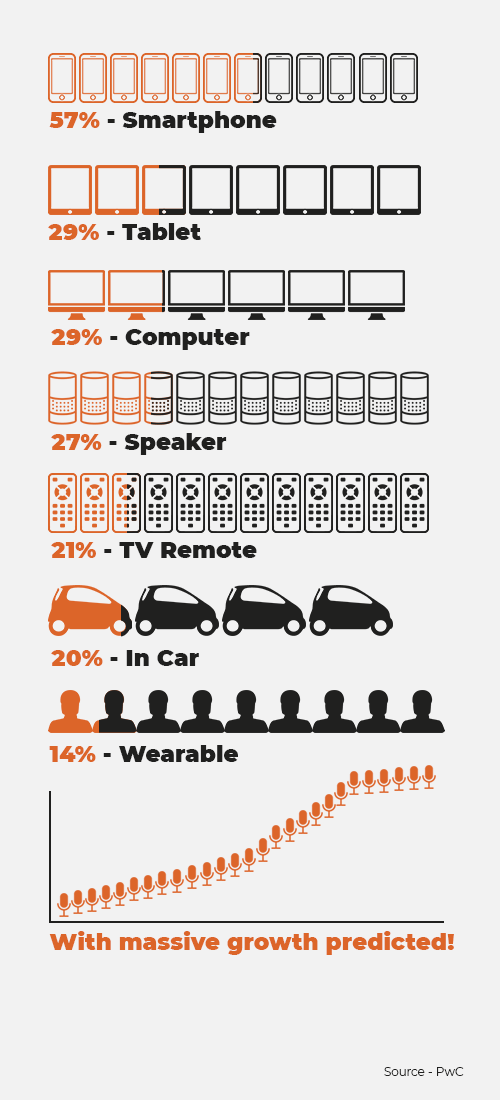 Voice Search Assistants
These are speech-recognition agents with artificial intelligence (AI) which have taken on a 'human persona'. They include Amazon's Alexa, Apple's Siri, Google Assistant and Microsoft's Cortana.
Wearable Voice Assistants
Assistants like Apple Watch's Siri is already being used by more than half a billion devices (Apple, 2018) and according to HubSpot, 37% use Siri monthly.
Home Digital Voice Assistants
Voice search assistants which are used at home and include Alexa and Google Home.
Auto Digital Voice Assistants
Good examples of Auto Digital assistants are Android Auto, Apple CarPlay and Nuance and allow you to drive while searching.
Mobile App-based Digital Voice Assistants
They are specialised assistants which can help you to navigate a specific application, product or services. These are a vast improvement on the original Microsoft assistant "Clippy". In an ever-increasingly mobile world, the interaction can be seamless.
Smart TV-based Voice Assistants
Voice-activated assistants such as Amazon FireTV and Direct TV's. These assistants allow consumers to search for films and videos via their TV.
How can I make sure my website benefits from voice search?
1. Ensure your content is optimised for long-tail keywords and queries
Due to the conversational nature that voice searches are usually made in, the average voice query is between 3-5 words longer than the average text query. Voice searches also tend to focus on question-orientated words such as "how", "why" and "what", therefore, ensure your website includes these kinds of keywords. You can take advantage of this type of content in page and article headers and by having FAQ pages.
2. Adhere to SEO best practices
Voice searches are made for speed and accessibility; therefore, you need to ensure your site adheres to this. These include:
Ensure your website loads in 3 seconds or less
Build a solid site hierarchy
Create intuitive navigation
Establish site authority with credible backlinks
Make an XML site map
Include alt-tags for all images
Create quality content that answers questions and problems
Write in concise, natural language designed to answer user questions
Secure your website by installing an SSL certification
Design your website responsively for mobile device compliance
Use schema mark-up so that search engines can quickly identify the contents of your website
3. Optimise your Featured Snippets
If you are organically ranking in the top 10 for a Google search term, your content has a chance of becoming a 'featured snippet'. This is the most coveted placement for voice search marketing because Google Assistant will read them aloud and automatically when the user asks the corresponding question.
To increase the chance of this, your site needs to ensure it has good SEO foundations, great summaries, has clear and simple pages and adds something new to the conversation that your competitors aren't (this is where good keyword research comes in, see point 5).
4. Optimise for Local Searches
As voice searches continue to become more localised, it's important to cater to local customers. This can be done by:
Providing easily accessible phone numbers and addresses
Updating your Google My Business listing
Ensuring your company has positive reviews on Google and other common third-party review sites
Adding "your location" in the title tags, meta descriptions and anchor text
5. Use internal resources to align content to customer needs
Review your website internally and refresh and update FAQs to benefit your SEO and question-based content, refer to point 1 for this. The best resources for this are Sales and Customer Support teams. Ask them what questions they get asked regularly and ensure that you address them on your website.
It's not a perfect world, but to ensure that activity and budget are used effectively, grasp every opportunity to track and analyse the traffic to your site and its sources. Google Analytics doesn't currently enable the separation of voice searches, but assessment and estimations can be defined by filtering device/browser-based traffic to give some insight.
Voice search is here to stay. With the prediction that voice searches will be matching traditional queries by 2020 and with nearly 30% of voice searches resulting inbound calls to businesses, we cannot ignore this as a significant element of the marketing mix.
According to a study by SEMrush this year:
Close to 80% of the answers returned from a voice search were from the top-3 organic results (for Android Phones, 72%)
70% of all answers returned from voice searches occupied a SERP feature, with 60% of those returning a Featured Snippet result
When analysing backlinks, Page Score and Trust Score were slightly higher for answers' URLs regardless of the device
The backlink anchors and keywords within a title matching the voice search query are present in over half of answer URLs for Google Home and Home Mini
Text length of the answers returned was nearly the same for every device – around 41 words on average
Text complexity needs to be simple and understandable for the average reader (ranking around 8 on the Flesch Kincaid Grade)
Pagespeed is very important for all devices. For the majority of questions, the answer chosen by Google loads faster than the average page speed for all other results in the same SERP
Well-linked pages (internally and externally) are favoured within Google Home and Home Mini searches
The majority of answers sources used schema's although there was not a clear winner over which type of schema would influence the answer being selected.
HTTPS and URL depth seem to be irrelevant for Google Assistant's selection because there was no tangible variance between answers and non-answers
So, if you're improving your site from an SEO best-practice perspective (improving page speed, using scheme mark-up, targeting useful short and long-tail keywords, using https and creating useful and instructive content that matches the searcher's intent) then you're creating a strong foundation for maximising the opportunities that the rise in voice searches will create.
At Logic Digital, we believe in helping our clients to achieve real and tangible results which encourages their businesses to grow and evolve. We get to know your business to understand what makes it tick so we can translate your ideas into effective strategies that encourage long-lasting business growth.
If you'd like to find out more about voice search and how it can benefit your website design, please contact us.