As an agency owner, it can be a tough job to fulfil everything you want to for your clients when you're so busy. That's where white label services come in to help you.
Let's say you're an agency that has numerous clients that require a range of services. Instead of hiring a full-time, in-house team or trying to deliver specialised activities with already overworked or inexperienced staff, you outsource some of the work to a trusted partner.
This way you're able to fulfil everything your client needs with the confidence that the work is being delivered by a team of specialists, but under your own brand name.
6 Reasons to use white label services
There are considerable benefits to using white label services for your agency: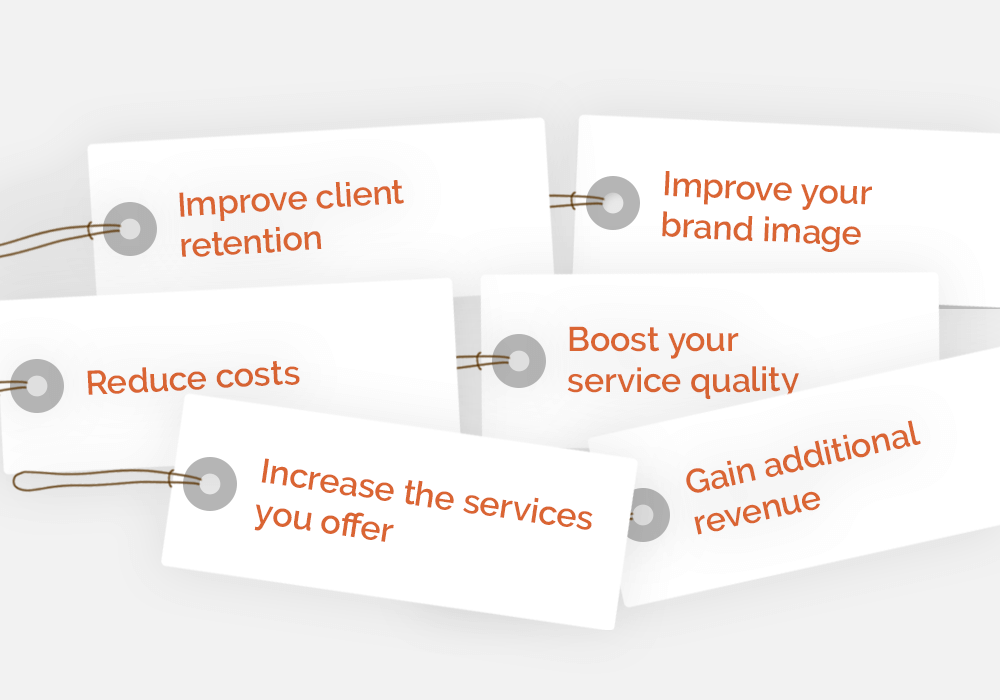 1. Increase the services you offer
The most significant advantage of using white label services is to broaden what you can offer your clients. By outsourcing, you can add to or extend the services you already offer whilst leading the client relationship and without impacting negatively on the day-to-day running of your agency and resources.
2. Reduce costs
By outsourcing some of the services you provide to another agency, you remove the need to recruit in-house specialists or ask your current team to do work that they are not experienced in. By using white label, you don't need to provide:
Systems and audit tools
Equipment and hardware
Training for staff
These may not seem like overwhelming challenges, but the benefits of using white label services allow you to set aside crucial time and resources to go out and win, secure and deliver more work.
3. Gain additional revenue
Another significant benefit of using white label services is the number of additional services you can offer to your clients. This can be split into two key areas:
With a third-part agency taking care of all the elements and deliverables that these projects require, it creates capacity for you and your internal team to focus your skills on developing new client revenue.
You will be able to resell the third-party agency's services for a healthy profit.
4. Improve client retention
With this work being expertly managed on your behalf, you'll have the confidence and more free time to look after the relationships you have with your clients and unlock new opportunities.
Additionally, this means there will be no need for your clients to outsource their needs to another agency which could complicate and reduce your client's loyalty to you.
5. Boost your service quality
If you are already providing some of these services, you can't be spot-on with every single one, all the time. Instead, by outsourcing selected services or projects to an agency, you can ensure that you deliver high-quality services all round. Outsourcing to boost the quality of your services helps to:
Free up resources for new projects
Freshen up the approach and services of a client
Provide cover for sickness or maternity leave during busy times
This can be especially important if they have been a client for a while and the service or quality has become strained or repetitive. A third-party agency can work with you to re-energise and improve account performance, helping you to retain clients or motivate further business growth.
6. Improve your brand image
It can take time for an agency to build its reputation. White label is a great way to provide you with the time and resources to evolve and grow.
Ensure you deliver on your promise to clients, outsourcing services can help you to drive quality or the improvements necessary for you to build a great reputation and to strengthen your positioning as a reliable, high-quality agency to go to.
As you already offer good services to your existing clients, extending or supporting them with another agency's resources will give you the confidence and opportunity to gain new ones. Giving you more opportunities to offer services that support and complement your core skills and experience.
Is white label for you?
Before deciding to go ahead with white label marketing, it's worth asking a few simple questions to ensure its right for you.
Are your clients asking for more services? Are you concerned you don't have the resources or skills to deliver them well enough?
Is your team very busy and can't take on any more projects or clients?
Are you concerned that you can't retain your clients because you don't provide the services that they want?
Do you have existing projects or client relationships that have become stagnant or difficult and you want to refresh the approach?
Are your existing projects controlling your team's time? Do you want to free them up to work on new projects?
If you answered yes to any of these questions, it may be time for you to think about working with a trusted partner who can provide you with excellent white label services.
We're experts in white label and helping businesses to grow and evolve to their client's needs. We work alongside your business to give you the opportunity to provide your clients excellent marketing services.
At Logic Digital, we believe in helping our clients to achieve real and tangible results which encourages their businesses to grow and evolve. We get to know your business to understand what makes it tick so we can translate your ideas into effective strategies that encourage long-lasting business growth.
If you'd like to find out more about our white label offering and how we can work with you to provide the very best services to your clients, please contact us.