Here at Logic Digital we have many years of experience in the design and development of websites and digital strategies. We often get asked what do we do differently from other agencies and why. So, we thought we would create the following article to discuss what we think is wrong with traditional web design, and how we feel website design and strategy development should be done.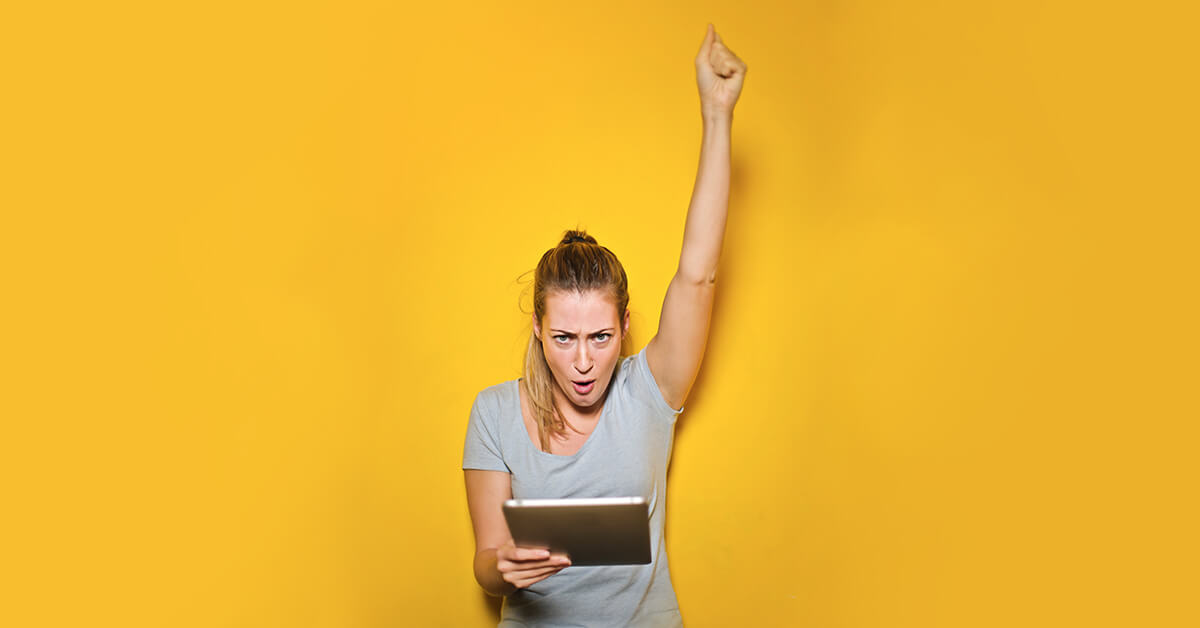 What are the main issues with traditional methods?
| | |
| --- | --- |
| | Large up-front costs.They are for most small to medium (SMB) sized businesses to budget for upfront, especially when it has to be paid for before the benefits have been realised. |
| A massive impact on resources and time. Even a fairly modest website for a SMB takes approximately 12 to 18 weeks to complete. This investment in time and resources requires them to make decisions that will impact the business for a long time. | |
| | A lack of results.There are so many sections, operations and elements to be considered and it's extremely difficult to estimate this exactly. It's also not unusual for time delays and budget overruns to cause a caustic relationship between the company and the digital agency. |
| Budgets usually overrun. Excessive budgets and time taken to create the website, can mean that no further changes are made to the site for an average of 1.5 – 2 years – yet, the site is still expected to grow and show ongoing measurable increases. | |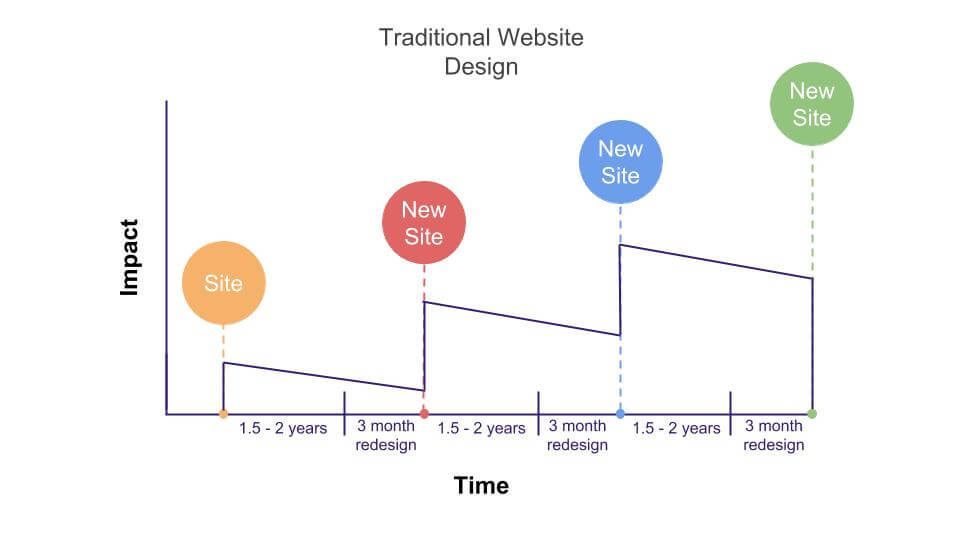 This traditional approach can create an environment where the digital project (website development) becomes a cumbersome and lengthy process that promises much, but usually fails to live up to expectations. This type of project delivery also suffers from a lack of ongoing development because budgets get re-prioritised – usually with the phrase – "we have spent enough on the website already".
So how is the way we do it different?
Over the years we have run many different projects and used different methodologies to try to deliver them faster or more efficiently. The issue is that most of these methodologies and processes are defined to work best for the agency and maximise profits.
They seem to lack the ability to be responsive or adaptive to change. We have yet to meet a client or a client's team that from the outset, has a clear and unmovable vision and does not want to change anything part way through the project.
The traditional methodologies also apply a lot of pressure on the agency's designers and developers to all be in sync with this vision, so that the outputs and deliverables are all perfect from the get go.
However, this is unreasonable. With both parties challenging the pre-conceptions to test and learn from changes, it doesn't allow for a client-agency relationship to evolve. If we instead focus on the website, we get side-tracked and forget that the website is only one channel or only part of the digital strategy as a whole in delivery an effective digital strategy.
Through our experience we have refined and developed a project structure that:
Provides and challenges the digital strategy
Enables fast development of the initial foundations of you digital strategy or project – sometimes called the MVP (minimum viable product)
Enables changes and evolutions to be rolled out quickly and efficiently
Our diagram below show the principles of the methodology: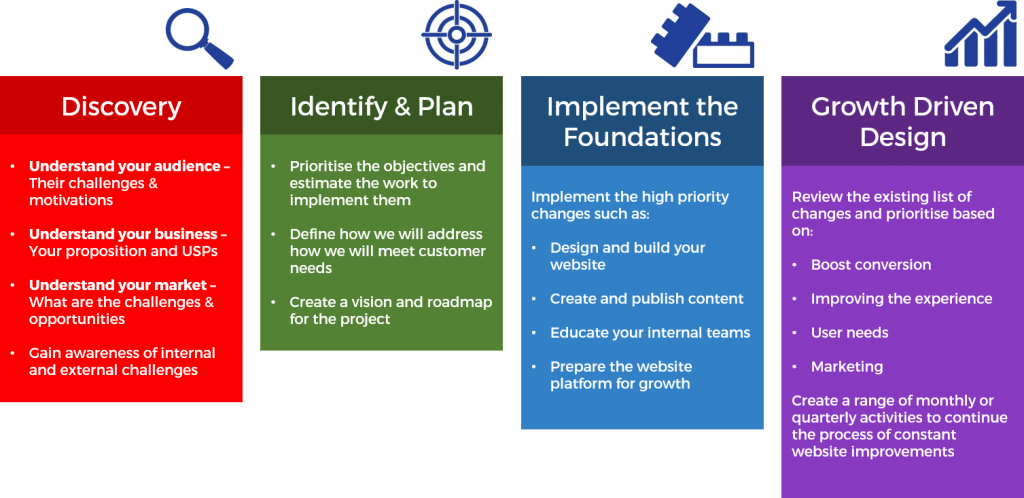 What are the main benefits of using this strategy?
You create a digital environment that keeps evolving without the risk of big up-front budgets – making for a more pragmatic approach letting you focus on real and not perceived business benefits.
As it's not an all-at-once process, your colleagues learn more about what, why and how projects progress, in turn, improving efficiencies and saving on costs.
It enables a collaborative approach with sales and marketing departments which benefits growth and communication within a business.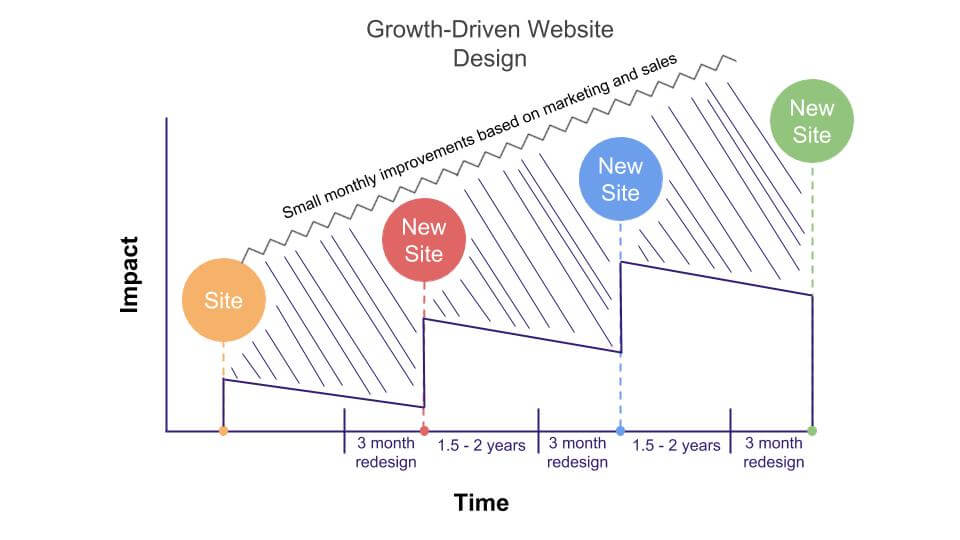 This diagram shows a more gradual, more continuous process where changes are made little and often to conserve time, budget and to grow with the business.
The Growth Driven Strategy is the method we implement with every one of our website redesigns. It allows us to consistently evolve your website, so your business can evolve with it – and vise-versa. If you would like more information on how we can continually refine your website to support your ever-growing business, contact us here.