Simple website processes make it easier for websites to grow with the business.
Developing a fresh and scalable website system for a leading Midlands IT business.
Your IT are an outsourced IT service for businesses of all sizes in the midlands. Having been a leading IT service provider for nearly a decade, they had outgrown their marketing strategy that had been established in the early stages of their business.
They hired a new Director of Sales and Marketing who developed a far stronger and more structured marketing plan – starting with a new website that would reflect their current business and be able to easily grow with them in the future.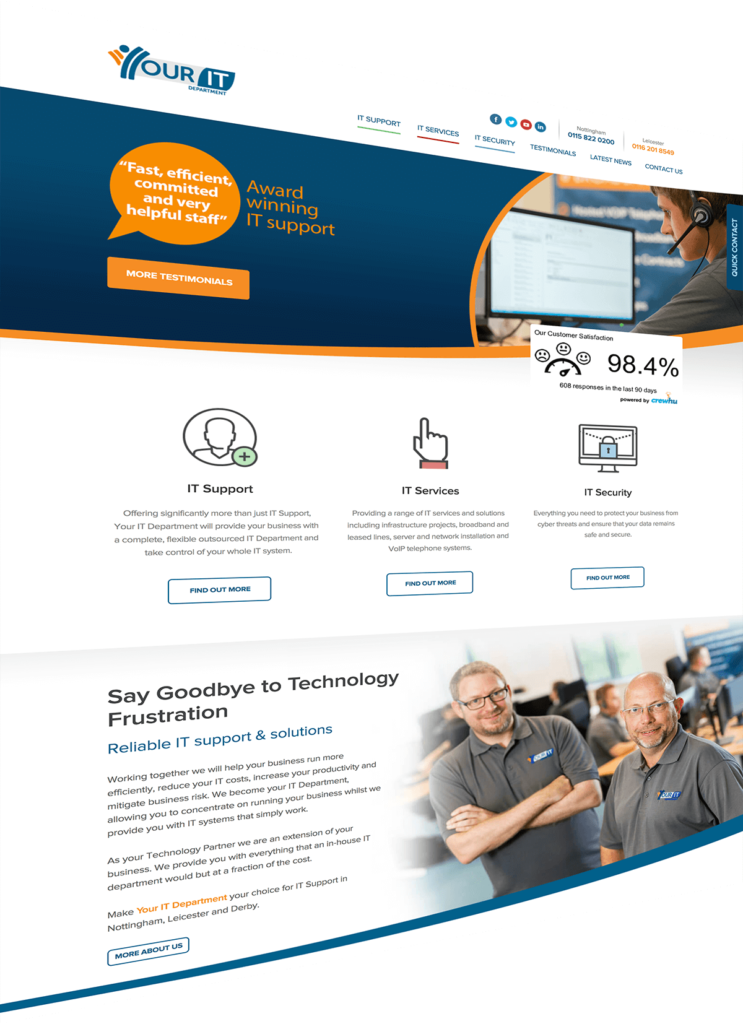 We successfully won this project after pitching against 3 other Nottingham-based digital marketing agencies. It has since led to an ongoing relationship and recurring work from Your IT Department Ltd.
Objective
Your IT's existing website structure was difficult to update and reflected the state of their business when they started the business rather than the successful leader they had become. The aim was to create a website that would not only work for the company now, but would also be easy to update and expand as their business continued to grow.
What we did
We set up a WordPress website that allowed for a high level of customisation when needed but could also use templates for quick updates and additional pages. Using their initial campaign ideas we helped them develop their digital branding to ensure consistency across their website and other digital platforms. Alongside this, we also keyword optimised page content to increase their visibility in search engines.
The website build was a painless process, deadlines were hit and communication was fantastic throughout. We were delighted with the design and functionality of the site, and have seen increased traffic and conversions.

CRAIG PEARSON
Director of Sales & Marketing, Your IT Department Ltd
Results
Not only has the website seen continuous growth since it's launch, the easy update process and scalability of the system has led to them rolling it out for other parts of their business like Your Comms.
We've had regular meetings with Logic and they've taken the time to understand our business and what we are looking to achieve, this means that our SEO strategy aligns with our overall marketing goals.

CRAIG PEARSON
Director of Sales & Marketing, Your IT Department Ltd