Using our full range of services we developed a clear vision and roadmap for their digital strategy.
Integrated digital strategies helped Authenticate focus on high value leads.
Authenticate was founded in 2013 with the aim of using technology to bring greater transparency to the global food industry.
Finding that food businesses up and down the supply chain were asking for the same product data and assurance details – on multiple occasions, and in different formats – the biggest problem was not building great software, but obtaining the necessary information from ever more time-squeezed parties.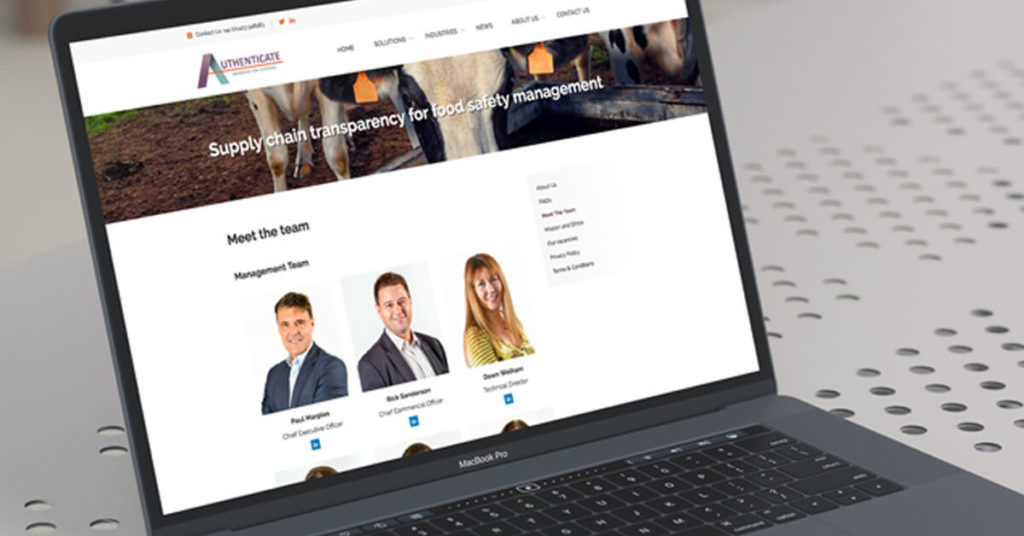 Authenticates origins lay with a passionate group of industry experts who saw the potential for a bespoke software solution that would enable businesses to manage data about their supply chains more efficiently and with greater scope for collaboration.
Authenticates company directory now provides compliance data on over 20,000 food businesses within a user-friendly online platform that makes it easy to map out your supplier network, manage the associated regulatory admin and gather the supply chain data that matters most to your business.
With a 25-strong team based entirely in Harrogate, North Yorkshire, Authenticate is now established as one of the regions leading tech enterprises. In May 2019, the company received a £2.3m investment from the Northern Powerhouse Investment Fund in order to substantially grow the in-house software team and develop a go-to solution for transparency, compliance and insight for food businesses of all sizes across the globe.
Objective
Authenticate came to us in need of a full digital campaign that was trackable and could integrate with their existing software. Much like their own software for the food industry, they wanted to be able to follow their customers through the discovery and buying process to be able to improve upon their marketing strategy.
What we did
We evaluated their existing digital strategy and made recommendations as to what we thought could be improved moving forward. This was presented to Authenticate via a digital workshop to educate on some of the processes needed to make the most of their product.
Alex and the team at Logic Digital took us through a journey of reviewing and critiquing our existing marketing approach, identifying our target markets and personas.

Building a value proposition through a blend of targeted informed content via a new website, built for purpose and indexed, and SEO and social media such as LinkedIn.

RICK SANDERSON
Chief Commercial Officer
As part of our integrated campaign strategy we presented a single solution that covered their Website, SEO, PPC, Email Marketing, Offline Marketing, LinkedIn Marketing, and many more channels. The website was also integrated into their CRM system which allowed them to trace lead acquisition and implement lead scoring to streamline some internal sales processes.
Results
We're thrilled with some of the results we've seen for Authenticate. Among these is an increase in monthly site visitors of 63%. But more than that, each lead on site can now be accurately traced through the buying process. This allows internal efforts to be focused on high value leads and in turn increases the efficiency and profitability of the business.
Some of this was work upfront for us, which was of real value regardless, and then Alex and the team took over to the point of delivery.

We got results, both in terms of leads that were scored, and brand building and positioning as market experts. I would recommend Logic on the basis of the work they did and outcomes achieved.

RICK SANDERSON
Chief Commercial Officer